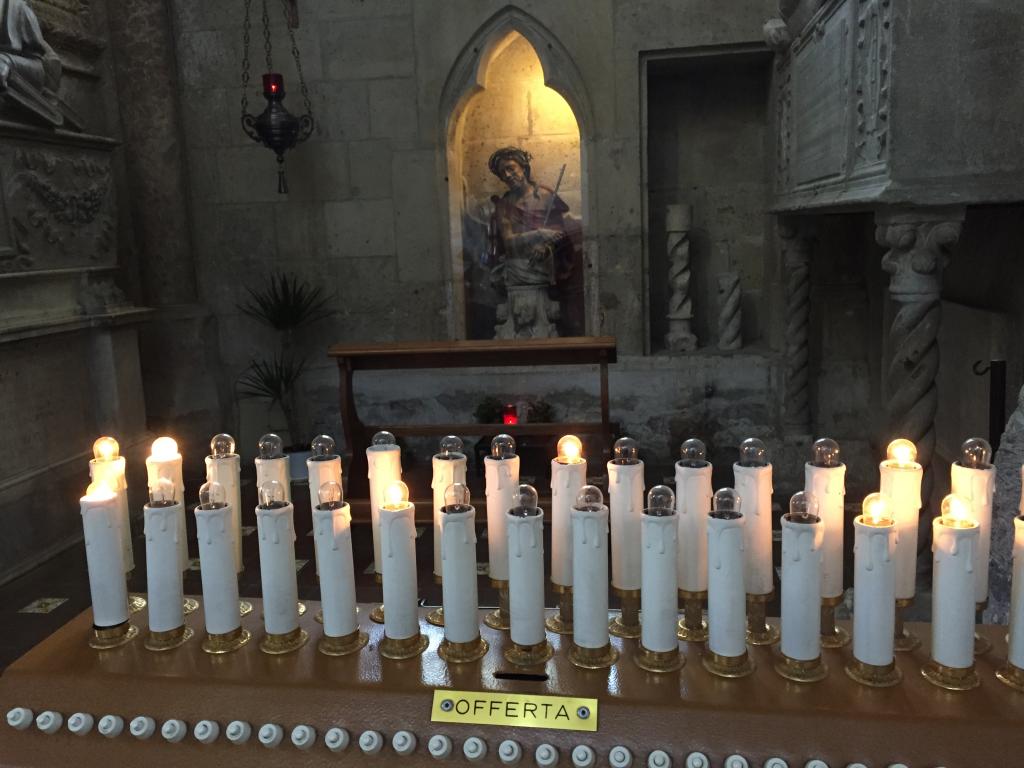 It's eight:30, the day after Ash Wednesday.
And I'm happy to report some early success with Lenten weight reduction:  I'm down half a pound after yesterday's, properly, half-a**ed quick.
OK, so truly, there's some context there:  having gained weight through the summer season and extra weight throughout Halloween/Thanksgiving/Science Fair Season, I had already been weight-reduction plan since New Year's.  (Yes, the norm is to realize weight within the winter, not the summer season, however summer season is not only the season of being extra lively, however of taking walks or happening bike rides to locations resembling Dunkin Donuts or an ice cream place.  And my son's science honest challenge had been about yeast, so he was baking plenty of rolls.)  And, whereas the weight-reduction plan I pursued to take off child weight in three situations, and at varied different factors in my grownup life, had all the time meant a Weight Watchers-style points-counting, snack-reducing, generic discount in "calories in," and that had saved me at an inexpensive weight, that was not working after I hit age 40 or so, at which level the one factor that basically labored (and even then, my weight inched upwards) have been bouts of what I initially known as a half-a**ed South Beach Diet and, this time round, I've taken to calling a half-a**ed Keto eating regimen — which suggests, within the first place, that I didn't obsess over the low-fat necessities that South Beach known as for and now I don't obsess over the high-fat necessities of "true" Keto.  And, seems, the South Beach Diet creator has a brand new ebook out, during which he just about says, "eh, fat's not so bad, you should eat low-carb on a long-term basis, but you can still get weight-loss benefits without focusing on the "true Keto" fats vs. protein ratios and with, particularly within the long-term, a better ration of carbs.  He says, true ketosis isn't actually needed for anybody apart from these with sure medical situations.
Anyway, I haven't truly misplaced all that a lot weight.  In half, there's a little bit of a bait-and-switch happening:  this and comparable books promise that the secret's chopping out carbs, however then they supply pattern meal plans that prove to pair no-carb consuming with calorie discount.  So there was a little bit of an ah-ha second after I realized that I wanted to chop down snacking somewhat than merely accustom myself to low-carb snacks.  I had additionally set myself an preliminary purpose:  after I lose X kilos, I get to start out having fun with low-carb treats.  But I found that the snack bars I had been having fun with (Atkins branded, no much less) have been utilizing a type of synthetic sweetener (malitol) which is maybe higher than consuming a full-sugar product, however not a "free lunch" in any case.
So the weight-loss effort that I had hoped to have been completed with earlier than Lent (for the pragmatic purpose that I'm not a fan of seafood and developing meatless meals that are additionally low-carb is not any imply feat), continues to be ongoing.  Therefore, I'm "giving up carbs for Lent," for what it's value.
I've additionally been making an attempt to get right into a routine of exercising, and have been fairly profitable on the purpose of going over to the cut-rate health heart thrice every week, after the youngsters have left for college.  But on the identical time, I've gotten into the apply of getting up later than I used to, and getting a late begin on truly, properly, working — whether or not meaning writing or one other freelancer-y challenge or one thing housewife-y — so I've one other Lenten resolve, that of getting up when the alarm clock goes off, somewhat than hitting the snooze repeatedly.
Am I doing Lent "right"?
Many of you'll doubtless say "no."  (OK, a lot of you aren't truly Catholic, however amongst my Catholic readers, a lot of you'll say "no.")
Lent isn't about self-improvement, in any case.  Getting up sooner than traditional?  That is likely to be acceptable if paired with, say, Bible studying or rosary-praying.  A change in eating regimen?  Maybe the model the college-me practiced would have been OK; then, my chopping out sweets wasn't about weight reduction as a result of the reasonable weight reduction I skilled wasn't actually needed and simply moved me round barely throughout the window of "somewhat on the slender side but not overly much so."  Granted, even then, it wasn't executed for non secular causes (heck, I wasn't even Catholic), however extra a matter of pushing myself to be self-disciplined about one thing.
But I are usually of the opinion that it's solely acceptable to interact in a self-discipline even for those who don't have a non secular motivation to go together with it.  I likewise reject the concept that abstaining from meat on Fridays should be "spiritual" and entail "suffering" and/or "serving to others by selecting a meatless meal that's much less tasty than the meat you'd often eat, and cheaper than in any other case, to offer the distinction to the poor.  Not consuming meat on Lenten Fridays is simply partly about penance; it's additionally about doing a Thing that's shared with your entire Catholic church, even when that exact apply doesn't swimsuit you individually.
And, after all, that is greater than only a Lent challenge.  It's a query I've raised on different events (although I'm not going to attempt to seek out the hyperlinks now):  how vital are non secular practices to being a "good Christian"?  If I imagine (or assent to) the doctrines the Church teaches, if I attend mass weekly and in any other case do my greatest to keep away from sin, if I tack onto that some cheap efforts at volunteering, is it additionally needed so as to add onto common prayer life and/or different non secular practices?  Or are these extra what you'd name "best practices" which can be helpful for many who do them?  And, in any case, I'd be joyful to take part within the kinds of practices which have, previously, been significant to me — a Vespers or different Liturgy of the Hours service, chant, different kinds of company prayer.  But they don't actually exist in suburban Chicago.  (And no, I don't have the sources — that's, the Social Capital — to implement these at my native parish.)  I attended a Stations of the Cross at my parish as soon as, and the prayer booklet (from the 70s or so) was simply actually off-kilter and appeared at varied factors to have doctrinal error, although, I admit, that was so way back I don't recall the main points.  And a rosary or the notion of "spend some time talking to God" simply doesn't work for me — I spend my time as an alternative, speaking to myself about what I needs to be doing.  Reading the Bible reflectively and prayerfully?  Morning devotions?  Tried it — I learn for content material and wasn't capable of shift into what I imagined studying in a prayerful method needs to be.
And there's, after all, one other perspective as properly — those that name for Lenten sacrifices to be directed at charitable works, that's, of the triad of "fasting, prayer, and almsgiving," they deem as worthwhile the primary two solely insofar because it produces the third:  use the proceeds out of your decreased meals purchases to offer to others and use your prayer to inspire you to assist others, or be a greater particular person typically talking (that's, pray to be higher capable of let go of grudges or be a greater mum or dad).
So that is the purpose the place I solicit reader opinions.  Is there a mandate to interact in prayer of 1 kind or one other?  Is it scriptural, or only a form of standard knowledge?  What say you?